Tavares Trains at Cutting Edge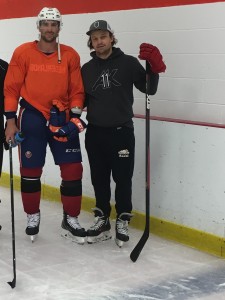 Training with Tavares – Part 1
On Wednesday, August 16, NY Islanders and Team Canada star John Tavares participated in an intense and high tempo training session with the Head Instructor of Cutting Edge's SL49 Pro Skills training program, Stefan Legein. The session lasted approximately 55 minutes and featured a variety of game like drills designed to enhance Tavares' ability to score off the rush, on down low options below the face-off dots and off of one timers on the power play.
Watching the Oakville native train, it is easy to see why he is widely regarded as one of the top 3-5 players in the world today and why he will be a highly sought after free agent next summer should the Islanders fail to resign him before July 1, 2018.
Tavares' skating, puck handling, shooting and goal scoring skills were quite apparent. As were his intelligence and creativity in a variety of game situations. However, there were 3 unique attributes that Tavares displayed that allow him to stand out from almost every hockey player on the planet. This blog post will highlight the first of the three attributes, Tavares' understanding of the concept of deliberate practice.
Tavares' approach to practice is deliberate and planned. There is nothing haphazard about it. If you have ever had the opportunity to watch an expert in any endeavor perform, one aspect of their performance that will immediately jump out is their approach to practice, which is entirely different from amateurs or even other pros who are good, but not elite performers. The work ethic and attention to detail Tavares demonstrated was eye opening. He wasn't there to get in shape or get ready for the coming season. He was on the ice that day for one simple reason – to become a better hockey player. In fact, listening to him speak after the on ice session, it is obvious that almost every decision he makes in life revolves around what will make him a better hockey player. At no time did he go through the motions. Every single repetition was completed at top speed and with a focus on executing every skill and tactic perfectly.
Tavares is a true practitioner of deliberate practice. He doesn't simply practice the skills he is already good at and can execute comfortably. Instead, he identifies the areas he needs to improve on the most and then attacks his weaknesses until they become strengths. Tavares operates at the extreme edges of his talent and skill level, continuously pushing himself to execute new skills and movement patterns at the highest pace. He repeatedly stretches himself beyond his current abilities, always hungry to achieve more and never full and satisfied with where he is at with his game.
Tavares requested that Legein design the training session specifically to target improvements in his game off the rush, which he believes needs improvement. While the quantity of repetitions was important, it was clear that Tavares was chiefly concerned with making sure every repetition was of the highest quality. During one shooting drill, a bad pass in Tavares' feet skipped over his skate. Instead of calling for another pass, Tavares immediately turned without hesitation, sprinted 15-20' to retrieve the puck and attacked the net at top speed before scoring. After the session when Tavares was asked why he didn't simply call for another pass he said "because in a game there is only one puck. If I don't have it on my stick, then I have to go and get it. If I'm not prepared to do that in practice, how will I ever be prepared to do it in a game?"
While he was resting between repetitions, Tavares could be seen on one knee visualizing the next repetition. As soon as he had recovered sufficiently, he would begin the next repetition attacking the drill at top speed and executing his game plan flawlessly utilizing new moves, fakes and tactics than previous repetitions. After each repetition Tavares would immediately seek out feedback from Legein on how he had done, what he could do differently, if anything, and what he could try in the next repetition.
If Tavares were a golfer he wouldn't simply show up to a driving range, drop a bucket of balls and continuously spray the ball all over the range, without a preshot plan and routine, any idea of why he can't hit the ball straight, or immediate corrective feedback from a skilled and knowledgeable coach.
Instead, he would train with a purpose and plan for every shot, and in conjunction with his coach, analyze the results of each shot, good or bad while making adjustments as required.
If you're a young hockey player with a desire to play hockey beyond the minor hockey system – major junior, NCAA or even professional hockey, the attitude and work ethic you display during practice will go along way to determining how far you go. Always practice with a purpose and get a little better each day.