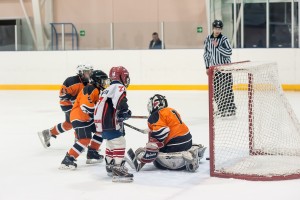 Once again you get to wear the jersey of your favourite player.  Whether it's a modern star or past great, when you register for Cutting Edge's 3 on 3 league you get to select your favourite player and wear his jersey complete with team logo, name and number.
Team registrations are permitted to select the player of their choice in the order that they register.  Individual registrations will be placed on a team and assigned a jersey.
* when registering as a goalie indicate your position in the comments section of registration form – Goalies pay $99 and get a complimentary semi-private session with the Cutting Edge Goaltending School.
---
SPRING 3 on 3 LEAGUE 2017
---
2007-2008
McDavid Division
Tuesday
2005-2006
Crosby Division
Wednesday
 2009-2010
Matthews Division
Thursday
---
2007-2008 McDavid Division
10 game season including regular season and playoffs
Start Date: Tuesday, April 25
End Date: Tuesday, June 27
Time:  Games will occur between 5:30 and 7:30 pm
48 minute running time games
Teams will feature a maximum of 9 players and 1 goalie.
Jerseys included
Individual Registration: $174.99 + HST
Goalie Registration: $99 + HST (indicate your position in the comments section of the registration form)
Register Now – McDavid 3 on 3 Individual
Team Registration: $1700 + HST
Register Now – McDavid 3 on 3 Team
---
2005-2006 Crosby Division
10 game season including regular season and playoffs
Start Date: Wednesday, April 26
End Date: Wednesday, June 28
Time:  Games will occur between 6:30 and 8:30 pm
48 minute running time games
Teams will feature a maximum of 9 players and 1 goalie.
Jerseys included
Individual Registration: $174.99 + HST
Goalie Registration: $99 + HST (indicate your position in the comments section of the registration form)
Register Now – Crosby 3 on 3 Individual
Team Registration:  $1700 + HST
Register Now – Crosby 3 on 3 Team
---

2009-2010 Matthews Division
10 game season including regular season and playoffs
Start Date: Thursday, April 27
End Date: Thursday, June 29
Time:  Games will occur between 5:30 and 8:30 pm
48 minute running time games
Teams will feature a  maximum of 9 players and 1 goalie.
Jerseys included
Individual Registration: $174.99 + HST
Goalie Registration: $99 + HST (indicate your position)
register now – matthews 3 on 3 individual
Team Registration:  $1700 + HST
register now – matthews 3 on 3 team