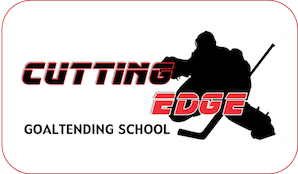 At the Cutting Edge Goaltending School we firmly believe that every goaltender deserves elite level instruction, regardless of their age or ability. The lessons are run by Ron Mays and Adrian Volpe as the Head Instructors.
During each training session, we show the goalie how to execute the skills every goalie requires to be successful, when to use each skill in a game situation and how to respond to the various tactical situations goalies face in a game. All of this is accomplished in a positive atmosphere where the goalie is challenged to become the best goalie they are capable of becoming.
Perhaps most importantly, goalies who train with Adrian Volpe and Ron Mays gain tremendous confidence in their ability to keep the puck out of their net due to the skills and knowledge they acquire during training sessions. These goalies enter games expecting to be successful because of the tools they have developed, and usually are, as a result.
Topics Covered:
Goaltender's Stance

Goalie-Specific Skating Skills

The Half-Butterfly

The Full-Butterfly

The Butterfly Slide

Paddle-Down

Angles/Positional play

Net Drives

Puck Handling

Breakaways
Recovery

Rebound Control

Stick Saves

Blocker Saves/Glove Saves

Shots to the Chest

Wraparounds

Walkouts

Screen Shots

Deflections

Shots from the Slot

Cross Crease Passes
We look forward to helping you take your game to the next level while gaining maximum enjoyment from our training sessions.
Cost:
Private Session: $140 per hour + tax
Semi-Private Session: $70 per hour + tax
The Ron Mays Goaltending School has a nearly 20 year track record of developing a strong foundation of skill in young goaltenders while helping them to continually progress and reach the highest levels of their potential.
Among the long-time students Ron Mays has trained are:
Spencer Martin – Colorado (NHL), San Antonio (AHL)
Steve Mason – Winnipeg (NHL)
Drew Fielding – Adirondack (ECHL)
Adrian Volpe – Niagara Ice Dogs (OHL), Brock University (CIS)
Chris Festarini – Niagara Ice Dogs (OHL), Laurier (CIS)
Ben Blacker – Western Michigan (NCAA), Team Ontario (U17)
Christian Sbaraglia – Omaha (USHL), Penn State University (NCAA)
Aidan Pelino – Bentley College (NCAA)
Bryce O'Hagan – Sault Ste. Marie (OHL), Team Canada (U18)
Chris Elliot – Oakville Blades (OJHL)
Nicole Paniccia – Penn State (NCAA)
Katie Bidulka – Minnesota State Mankato (NCAA)
Briana Piper – RPI (NCAA)
Alex Brooks-Potts – Brock University (CIS)
Luc Lobsinger – Mississauga Ice Dogs (OHL)
Justin Nichols – Guelph Storm (OHL), Carleton University (CIS)
Joe Lepera – Saginaw Spirit (OHL)
Brandon Maxwell – Mississauga Steelheads (OHL), Team USA (U18)
Brendan Gorecki – Niagara Ice Dogs (OHL)
Chris Festarini
Drew Fielding
Adrian Volpe
Alex Brooks-Potts
Tom Ritchie